Having your beard done at the barber is one of the sweet joys of masculine self-care. When your beard is done right, it can feel like the confidence boost lasts weeks. The barber will make it look easy, but the truth is, it can be! Getting it right might take a few tries but here is a step-by-step guide on how to shave, trim, and shape your own beard.
Step 1: Keep Your Beard Clean And Well Maintained
Believe it or not, the best thing you can do to trim your beard takes place well before you even pick up the clippers. Beards are an unruly mess sometimes and having yours well maintained and kept clean can really make a world of a difference. There is a reason when you have your beard done at the barbers that they will spray it with water and comb it down. Keeping those strays under control means you will have a more even cut. Using beard scrubs and oils regularly can keep your beard in a tame shape so it's always ready for a fresh shape-up.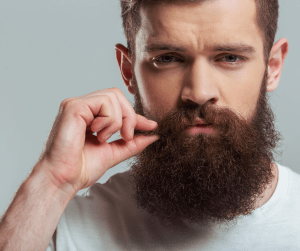 Step 2: Brush Brush Brush
As we mentioned above, your barber will brush your beard to keep the strays from making the cut uneven. Many people who trim their beards on their own will forget this step but it is so important! Your beard has a natural flow and if you let your comb do the hard work, you'll have a better idea of where to trim and aim those lines. We recommend using a brush for bushier beards, but for the finer areas like the mustache and sideburns, you definitely want to use a comb.
You definitely want to start with the clippers here. Set your desired length and make sure your battery is charged if you're using a rechargeable set. The last thing you want is dead clippers halfway through the trim. Now that you're all set, it's time to begin.
You are most likely going to use multiple clipper sizes, so have them all out and ready. Start with the longest length and trim downwards towards your chin all around. Use any of the smaller sizes to fine-tune the shorter areas.
Now that everything is roughly the same length, you're ready to begin the mustache. For this part, you want to use scissors if possible. Use a comb to pull the hairs down and trim away any excess that may be covering your lips. When you're done, you can use a razor to get the really tight areas at the top of your lips and close to the nose. We recommend a straight razor if you feel comfortable using one!
Step 5: Define Your Neckline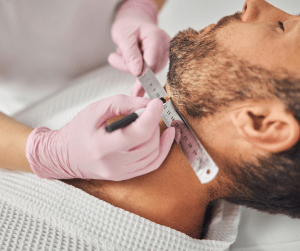 Since you already have the razor in your hand, it's time to start creating a neckline. The most common mistake we see people make is following the jawline, not the neckline. Your beard is meant to extend down your neck a little. You obviously don't want to have one of those deep neckbeards, so try to find a middle ground here. Most people like it to extend down to the adam's apple, but play around with different styles and see what suits you best!
Now that your beard is done, the last step is to finish with some oil and aftershave. Using aftershave will soothe the skin and leave you feeling and smelling fresh. Top it off with some oil for softness and you're ready to show off that fresh new trim. Practice makes perfect, but for those who prefer a more experienced touch, House of Handsome would love to help you look your best!