It's almost the Christmas season, and the perfect time to start thinking about the gifts for the men in your life.  We've got you covered, we're going to explore some stellar grooming gifts that any guy would be thrilled to unwrap this holiday season.
Before we dive into our handpicked suggestions, let's talk about why grooming gifts make excellent presents. They combine utility with a touch of luxury, allowing the recipient to look and feel his best. They may not be items a man would usually splurge on for himself, but he'll definitely appreciate them when given as a gift.
Top 5 Grooming Gifts for Christmas 2023
1. Luxurious Hair Styling Products
From hair creams to pomades, the right styling product can drastically change a man's look and feel. Offering both hold and shine, our curated range of products is sure to cater to all hair types and preferences. Plus, these items are the perfect stocking stuffer or complement to a larger gift.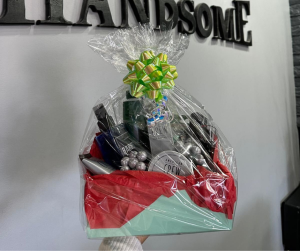 Beards have seen a resurgence in popularity, and maintaining them is an art in itself. Our premium beard oils and balms are designed to nourish, style, and keep facial hair in top-notch condition. With scents ranging from woodsy to fresh, there's something to delight every beard aficionado.
While styling products get all the glory, the foundation of great hair lies in good care. Our specially formulated shampoos and conditioners, tailored for various hair types, promise to rejuvenate, protect, and enhance the natural beauty of hair.
4. House of Handsome Gift Certificate
Still not sure what to get? A House of Handsome gift certificate offers the ultimate flexibility. Allow the men in your life to choose their own grooming adventure—whether it's a classic cut, a hot towel shave, or a complete grooming makeover.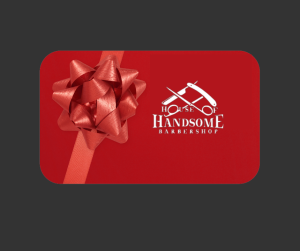 5. Hot Towel Shave Experience
The traditional hot towel shave is more than just a shave; it's an experience of pure indulgence. This service involves steaming the face with hot towels, followed by a meticulous shave, and is finished off with a soothing aftershave balm. For men who don't grow a beard or who just need a refreshing experience, a hot towel shave is the epitome of grooming luxury.
Book Your Appointment Today
A great hair or beard product is more than just a grooming accessory; it's an experience, a mood-lifter, and a confidence booster. This Christmas season, let House of Handsome help you spread the joy of impeccable grooming. Stop by today to pick up the perfect gift for the men in your life.